Climber YACK N961/962
Climber YACK N961/962
Practical and innovative wheeled climber Yack is the only climber in Czech market that can be easily and effortlessly transformed into 2 versions. Climber for transportation of people using a wheelchair and climber with a seating unit.
Climber YACK is designed to easily overcome almost all types of staircases such as straight or jagged, with or without landing and also circular or spiral staircases. In view of the fact that limited room is required for maneuvering, the climber YACK can be easily used on narrow platforms and in small spaces.
Climber YACK is available in two versions:
Version N962
For transportation of people using a wheelchair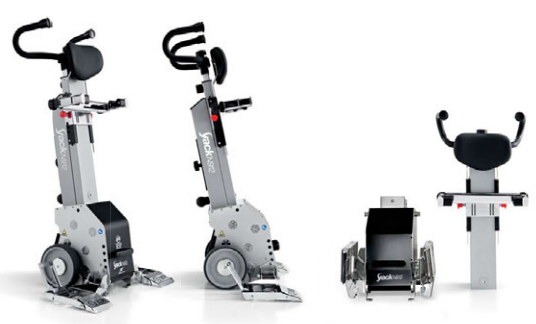 Practical and easy solution for transporting a wide range of wheelchairs. The climber can be taken apart into 2 parts for easier transportation and storage.
Version N961
For transportation of people who are able to move on even surfaces using any alternative remedy -walking stick, crutches or walking frame.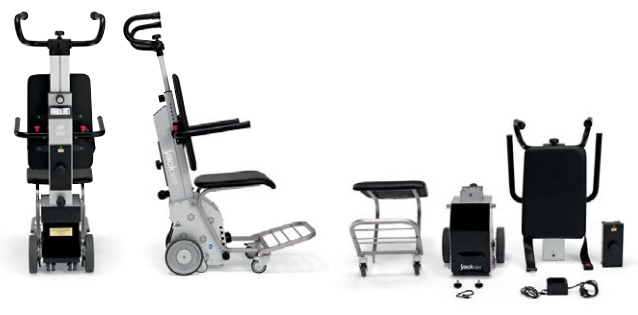 Procedure of transformation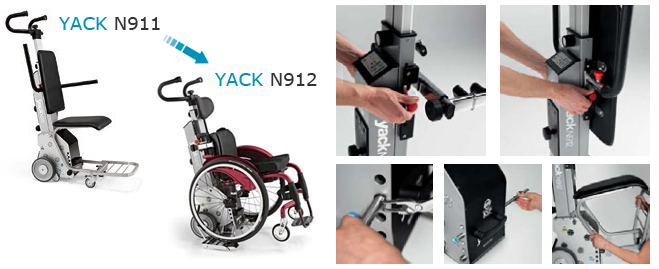 All versions of step climbers are based on the same basis so it is easy to replace and adjust accessories to transport people with or without a wheelchair.
Technical features
N961/N962
Adjustable handle allows parking in tight spaces
N961/N962
Adjustable tiller (handlebar) that allows maneuvering on the stairs
N961/N962
Automatic braking system- stops when reaches the edge of the step
N961/N962
Ergonomic handwheel to lock the tiller (handlebar)
N961/N962
Telescopic handle with adjustable width using the regulating wheel
N961/N962
Maximum stability: "Floating" system of the upper gripping element with hooks can be adjusted according to the slope of the wheelchair
N962
Platforms that firmly grip the wheelchair
N961
Adjustable armrests
N961
Foldable footrest
N961
Lockable swivel wheels allow movement on flat surfaces
Technical features
N961
N962
Weight
kg
43
43
Maximum weight when fully loaded
kg
173
173
Maximum load capacity
kg
130
130
Maximum step height
cm
22
22
Minimum maneuvering area
cm
89×89
Depth
cm
63
50
Width
cm
51
60-68
Height min.
cm
116
116
Height max.
cm
152
152
Minimum dimensions of maneuvering area
cm
70×70
80×80
Motor performance
W
220
220
Operating and storage temperature
°C
-10/+50
-10/+50
Operational range
Floors
12
12
Phases of operation step by step
Choice of two kinds of motion (stepping and continuous motion) with adjustable speed.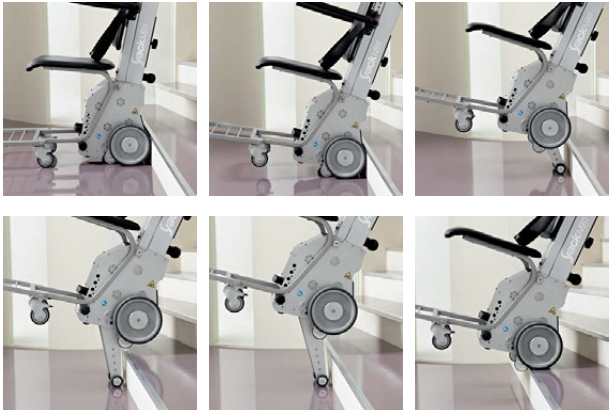 ---
Are you interested in Climber YACK N961/962?
Fill in the form and get a free proposal solution of Climber YACK N961/962. Forr call back fill in your phone number.
---